As with most excellent and innovative products, this system also attracted product piracy, mostly perpetrated by unsavory characters to whom the necessity for accuracy and reliability in building condition analysis is an alien concept and/or a matter of supreme indifference. This manifests itself in the quality and nature of the fakes they are producing and marketing. In the last 12 years or so, the European market is increasingly being flooded by inferior to useless fakes, some in appearance identical to the original, even using the names "RISSMONITOR" and "CRACK MONITOR", and audaciously applying the original Type denominations also. However, Fakes are also marketed by names like "Crack Observer", "Crack Spy" etc. Absolutely useless products like the "Indoor Crack Monitor" and the "Crack Observer" however bear little to no resemblance with the original, but are suggesting to be a serious measuring device. From all fakes that duped customers have provided for analysis, not a single one even remotely matches the performance of the original. This evidences the fact, that the producers have not wasted a single thought on quality, accuracy or longevity.
A number of companies are producing and selling pirated copies even of the obsolete Originals for corner and displacement applications, as their own state of the art developments. Being fully aware of the fact that these items suffer the problems which caused the re-design of the originals, they knowingly and dishonestly sell products which are of very limited use only.
Whilst most Fakes look quite trustworthy at first, all confidence fades quickly at taking a closer look, latest shortly after Installation on Site.
Would you trust these Products, when you require reliable and accurate Measurements ?


This Fake suffers from fast fading Hairline Cross and Measuring Scale,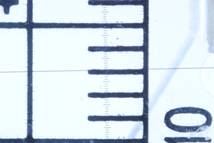 Hairline Cross and Measuring Scale with fuzzy contours and varied Line Thickness is the Hallmark of this Fake

This "Indoor Crack Monitor" brings an artistic note to the depressing state of affairs, it tops the abysmally poor quality of Hairline Cross and Measuring Scale of the preceding products,
the Quality of this Hairline Cross is in a class of it's own.


A real Gem is this Measuring Tool. Locked in Zero Position as shown here, by slightly changing your Angle of View, it proudly displays the record of an imaginary Movement. Now, just think of the possibilities in Creative Measurements it offers, once installed across an imaginary Crack Line and freed from the restraining locking pins!
It is your Decision, what level of inferiority of Measuring Tools you and your Clients are willing to suffer, especially in Cases where Damages amount to Large Sums of Money.
The Purchase of Fakes mostly constitutes wanton Waste of Money on Obsolete and quite often Absolutely Useless Products, as demonstrated above. In any Case, it invariably supports Product Piracy.
Our Original Products can easily be identified by the imprint
tcl-i RISSMONITOR and/or www.RISSMONITOR.com
Where to get the Original Products, as well as competent advice on the application thereof, you find out at:
If you wish to purchase inferior Pirate Copies and absolutely useless Gadgets, contact one of the following, some of whom kindly supplied the Samples of Fakes shown above:
A1 Equipment
AMAZON
AVONGARD INC
Bakker Vibraties
www.crackmonitor.nl www.scheuermeter.nl www.bavib.nl
Celtic Surveys
CRACKGUARD
Franz Christ Firmengruppe
www.rakuten-shop.de www.rissmonitor-shop.de www.rissmonitor.sachverstaendigen-bedarf.de www.shop.4proof.de
www.sachverstaendigen-bedarf.de www.lila-bus-shop.de www.stores.ebay.de/franz-christ-firmengruppe
EGELKRAUT
FISCHINGER-MESSEN
Gebr. WICHMANN
GEOASTOR
GEOMESSTEC
GLUNZ Technik GmbH
GOECKE GmbH & Co KG
www.goecke-schwelm.de www.goecke.de
m • i • t GmbH
www.rissmonitor.net www.rissmonitor.eu www.mit-gmbh.biz
M & P Surveying Equipment Ltd
NIEDERMEYER VERMESSUNGSTECHNIK
PRG INC.
PPW POLYPLAN WERKZEUGE GmbH
PRAEHISTORIKA
Rosa Moser
SCCS
SINYOUNG
s + h systems
Stock-BIG GmbH
www.stockbig.de www.stock-ok.de
South Survey Ltd
Survey Equipment
Survey Express Services
TESTMARK INDUSTRIES
TOOL EXPERTS
VERMESSUNG-OK
Vermessungstechnik Nord